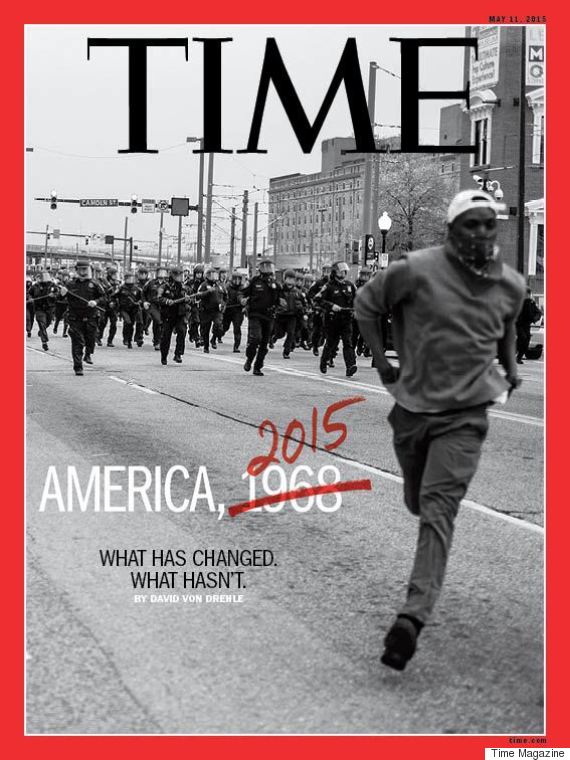 I am a child of the modern Civil Rights Movement. I grew up middle-class with the expectation of college and a comfortable life. I was able to date and marry as I saw fit for me. I could fail and not be written off before I was 24. I have been fortunate. Geography was kind to me. My dad's last military duty station was in DC, where he and my mom settled. I was in DC, just as the town became the most affluent, educated, and influential African-American community in the nation. Not that DC and the surrounding suburbs didn't have their share of crime and violence in the 80s when I was growing up. But it wasn't Baltimore. And I didn't become one of the thousands of underemployed, powerless people who just exhaled all of their bottled-up rage in Charm City.
The situation in Baltimore heats the back of my neck, not because of its proximity, not because of my fondness for The Wire, but because over the past 24 months our nation has seen this sort of event replay itself on a loop. Pick a city or a region and chances are there has been an unarmed person, usually black, being shot by police under dubious circumstances. Some times the victim is a bad actor, some times not. Often, the investigation is quick and perfunctory, with very little communication with the public at large. Terms like "feared for his life" and "used appropriate force" are a part of the testimony.
In the last several days, I've had intriguing conversations with all sorts of people I know about the events in Baltimore. The investigation in to Baltimore Police Department's handling of Freddie Gray, who died as a result of injuries incurred while being arrested, ultimately for carrying a knife; the days of protest as people tried to understand how his spine came to be nearly severed and he received no medical attention; the surge in vandalism and looting that took place after this past Sunday's protests; and the current media coverage that can only be characterized as fraudulent. They cross the spectrum–from colleagues, to family, to friends who know the various iterations of me. One person is trying to figure out how to talk about white privilege in a constructive way, while acknowledging her personal connection to the situation (family on the Baltimore PD). One friend compared what he saw on TV to the riots we experienced in DC during the early 90s when a black DC cop shot a Latino man under dubious circumstances. Others have questioned the nature of big media coverage, through various social media feeds. Such as, how can Wolf Blitzer be so complicit in the sham of "This is the worst thing ever," months after he said the same thing about Ferguson, and NYC. A family member who lives in the Baltimore area and has seen unrest on at least two continents wonders how the residents have stayed so calm, considering the situation in Baltimore had been a long time in coming. And then there is the police report, which isn't being made public, because it might unduly bias the potential Attorney General investigation.
So that we're clear, I believe that there is too little policing and too much soldiering occurring in our nation. Police, out of preference or via direction, treat large segments of the population as if they are criminals. Black and brown people in urban areas are viewed as the problem and police are supposed to protect the "public" from them. In Baltimore, the goal of police was to keep "those people" away from the revelers and visitors that go to Fells Point, Camden Yard, and the Inner Harbor. When you hear commentators talk about how the post-protest rioting and looting, not the overwhelming, far reaching incidences of police violence, abject poverty from a broken economy, or shitty schools that combine to create a sense of hopelessness and despair, will set the city back decades, you know that the shim-sham is in full effect. Personal responsibility, not a history of oppressive policing, is the problem here. We need to "Send in the Moms!' to straighten this thing out!
I didn't know Freddie Gray, but the story sounds really familiar. Poor neighborhood, low education, caught in the cycle of crime and poverty. If I saw him on the street, I might have given him a nod and kept moving. We shared being black, male, and from cities below the Mason-Dixon line, and that's about it. But I bet he got a similar talk to the one I did, which essentially said "be afraid of police and don't do anything to antagonize them." " Yes, sir; no, sir. That's all you say. And call me as soon as you can." Interactions with police shouldn't end in death, but too often in places like Chicago, Charleston, New York, Oakland, and Ferguson, they do. I wrote a note to my daughters, trying to explain Trayvon Martin's death and I've talk with them about Freddie Gray. I tried to convince myself that they won't have to worry about these situations–they're girls from a solid home–but I'm certain Rekia Boyd's family might have felt the same. I have nephews and cousins, young black males who have to navigate this world knowing people assume the worst of them before trying to understand their best. Frankly, it scares me. Every now and then, I walk into the girls' rooms when they are sleeping, touch their hair and try not to cry. I don't know if I can protect my daughters from the randomness, if I can offer advice to my nephews that will keep them safe and not end up with them being maimed or killed.
As a child of the Civil Rights movement, this sort of thing was supposed to be left behind. All those folks that marched, labored, took beatings, and died paid the toll so that we could move forward as a nation, get to that more perfect union. No. Apparently, not all of us.